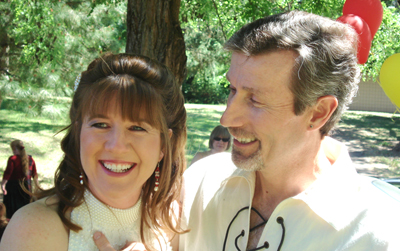 Janel and Rock's 2008 Year In Review
Instead of an annual letter, we decided to create a web-based account of "how we spent the year 2008." It was either this or randomly release thousands of carrier pigeons with infinitesimally tiny scrolls tied to their spindly legs.

You will undoubtedy notice that sometimes the Narrator is talking and sometimes it is Rock (and if you cannot figure it out then just go with the flow; no worries, be happy!)

In no particular order, here are the highlights of our year.



Click each image to see a larger version.


---
---
May 10th - We Moved!
Sometime around the beginning of the year we decided to come forth from the hinterlands and locate ourselves closer to work and friends. Even though we thoroughly enjoyed the better part of three years out in the boonies, surrounded and befriended by forest friends of all stripes and colors, with and without horns, quills, and claws, we could no longer justify twice-daily 45-minute commutes, especially given the ever escalating cost of gas. We really loved that "out of town" seclusion (88 acres within 3,000 acres of BLM forest), the sounds and smells of no traffic, the feeling of mountain-crisp early morning air, hiking in our own backyard for miles without coming across other people, and OMG, the birds! There were days where we would stop everything and just listen to hundreds of tiny voices, combined together into one huge cacophonous avian symphony.
So, we kept an eye out for rentals closer to the valley floor, and visited several promising locations. When Rock found an ad in Craig's List for a
cottage
on 30 acres with a 2 ˝ acre pond, and with views of Table Rock, it seemed too good to be true.
Turned out it was not only as good as it looked on paper, it was also being rented by two very nice folks who we liked immediately. Long story short, we spent a couple month's worth of weekends sorting, packing, and winnowing down our belongings. Rock made several dozen trips to move small truckloads of our stuff into the onsite storage container, and on May 10th we made the big move.
Here are views of our new digs and location. On the left is the view from Tolo Road, looking West across the pond, towards the cottage. To the right is the view from the deck of the
cottage
, looking North towards Table Rock.
| | |
| --- | --- |
| | |
Janel shot this early a.m. image of the pond on July 15, 2008. It was featured several times on our local news by newscasters who were positively giddy over the best "shot of the day" that they had seen. Mother Nature provided the color via a small grass fire and an effect called Mie Scattering.
The next image is a panorama that Rock shot on November 10th, from our deck. It spans an approximate field of view of 180 degrees, and was stitched together from 7 separate images. The images were captured on Rock's cell phone and processed using Photoshop Elements 6.0.

As you can see, the pond level is way down. By next Spring it will have filled back up, gaining significant depth. At that point, the deck will overhang the water.
And here is video shot from our deck in early October. It spans most of the same range as the panorama, above.
On a normal Summer day, and continuing into December, we would see (and hear) over a hundred
Canada Geese
, dozens of ducks (four varieties), the odd grey or white heron, and cormorants. We also have a pair of Osprey and two pair of Redtail Hawks who make regular fishing visits (we still get a kick out of seeing one of the Osprey dive on a fish and haul it out of the water). And five
Emu
(ask Janel about how much they like painted toenails) who are here on the property all the time, along with a herd of Blacktail deer, a pack of coyotes, assorted rodentia, and one lone elk that thinks she is a cow and is in fact just a big ole hairy girl.
---
---
June 14th - We Got Married!
Some said it would never happen. Some despaired of it ever happening. Some went out of their way to ignore it having happened. Still others happened to have happily harped on the happiness of the happening, while hapless harpies who happened to be hopping around the sidelines had happy thoughts while it happened. Those in the know said "What? How could it not have happened?" So it DID!
Finally, after 8 years of Rock pleading, bribing and debasing himself, Janel consented to becoming the little missus, or in her own words "now I get to boss Rock around all the time and he can't complain, and if he does I get to whack him soundly about the head and shoulders with a wooden spoon!" At this time, Rock has just a few new Klingon-like cranial-dents, and expects fewer still as Janel inevitably decides that he has had enough and has attained the perfect husbandly shape and demeanor; dough-like and compliant, able to be kneaded into situation-appropriate shapes and forms.
HAH!
| | |
| --- | --- |
| | |
To say we had a blast would be an understatement on the order of saying there are philosophical differences of opinion among the countries in the Middle East, or describing a corpse as being someone in very poor health.

Those of you who attended our the-opposite-of-serious non-conventional ceremony and celebration will remember:
a beautiful bride! (aaaaahhhhhhhhhh.... how sweet of you to say so!)
Men in Kilts; yes, you saw them there first. As scary as it may seem on paper, and as much as you'd prefer to run and hide from the hideous truth, there were men wearing dresses, in public, in front of their friends and relatives, with hundreds of evidentiary photographs. Actual men, hairy chested men; beer swilling men, with a tendency to not excuse themselves when belching, and to scratch themselves in ways only appropriate to locker- and bar-rooms (they didn't actually do any public scratching, having contented themselves with beer swillage and occasional subdued and wedding-appropriate burps, like the dress-wearing surrender-monkeys they were).
music by Janel's brother, Rich; the Samba Like it Hot band; our friend Scott on the pipes; more of our friends from the local folk group; Janel and friends on drums
incontrovertible proof that men in kilts don't necessarily know how to dance but they can fake it with the best of them
smiling, happy people
dancing, and more dancing just because you can never dance enough!
serious frivolity (can I say that without you thinking that the narrator is one banana short of a sundae?)
The ceremony was elegantly administered by our dear friend, Venita; without her it would not have been nearly as special. Extra special thanks to Mo, Barb, Eric & Patty, Bernie, Tiki, Ann, Michelle and Rich for photos, Jeri and Joanie for "above and beyond," Mike, Mark, and Ryan on BBQs, and all the rest who graciously helped set up and clean up. We could not have done it without you guys!

There are links to more wedding photos at the bottom of this page.

---
---
The New Garden We Grew
And here are a couple shots of some of this year's garden delights. Janel, lovely and fashionable in her sweats and cucumber ensemble, is of course the more delightful object pictured below, while
Rock
may simply be giggling-in-the-basement, counting-his-toes-in-the-dark, nuts. Half a bubble off plumb; 3/4's of the way to nicely tailored jackets with sleeves that tie in the back and­ a candidate for
the comfy chair!
In the 2nd row you see a shot of Rock and friend Bernie harvesting tiny golden tomatoes, which obviously must have been fun, or else they partook in a tasty brew prior to the gathering; nobody is sure, least of all Rock and Bernie.
The next image represents a typical day's harvest: crookneck squash, green beans, various tomatoes and leafy greens. Well into Winter we will continue the harvest, while preparing for next Spring's planting.
Oh yeah, the large boomerang-shaped veggie is one version of an Armenian Cucumber. This variety is actually a member of the cantaloupe family, and as such, will eventually turn orange and taste more like a melon than a cuke. When small, and yes, the one above is small, they taste like a sweet cuke.

At maturity, they make great "implements of squishy if not pointless destruction!"

And here is the actual garden, where Rock spent quite a bit of his Summer (not standing with beer in hand by the sunflowers, but in the garden in general). Janel (the lovely miss and now Mrs. Rawstern) is seen being dwarfed by the corn patch.

Special thanks to Dan for the timely plowing of the bare earth, which enabled us to get in a garden this year.

| | |
| --- | --- |
| | |
---
---
Fourth of July festivities in Ashland, Oregon
Imagine dancing with thousands of your friends, neighbors and strangers, in a setting where inhibition is tossed right out, like last week's news, and joy is grabbed by the armful, like a kid with a fiver in a nickel candy shop. (We did that at the wedding, too, albeit in smaller numbers but with no less enthusiasm and much greater vigor!)
In celebration of our Nation's independence, the band
Samba Like It Hot
brings up the rear of a mile long parade in Ashland, Oregon. Janel is participating for the 7th time (as a percussionist and occasional band leader) and Rock, the 3rd.
Every year Janel crafts a new costume, composed primarily of gold, green and purple, with lots of sparkly bits and shiny thingies. Every year she says it's "a two-hour project, honey" meaning that it actually takes slightly longer than it does for a glacier to traverse a hundred miles of boulder-strewn tundra (global warming notwithstanding).
Once again, Rock stood tall and mysterious, disguised and anonymous within one of the "Big Heads." As in the previous two years, he's "wearing" Zapp Man, while cavorting down the streets of Ashland as if he had not a care in the world, and was, in fact, immensely enjoying the levity of it all.
As usual, all along the route thru downtown, children and adults were transformed to an albeit temporary yet piquant state of giddiness and participatory lunacy, enhanced and inspired, no doubt, by groups such as the Samba Band.
A perennial favorite, the Samba Band has been the final group in each of these celebrations for the past 20 years. Every year, the crowd of thousands anxiously anticipates their arrival, knowing that once they show that the parade is drawing to a close and it's time to gather together and dance in the streets.
The first image is post-parade, after Rock has had a chance to remove himself from within Zapp Man. Over the course of each two-hour parade, Rock has lost as much as 8 pounds of pure unadulterated man-sweat (much like horse sweat, a copious and especially flavorful variety), as temps climb above 95 degrees (and 10 - 15 degrees hotter inside the big guy). Janel remained in her much more air conditioned costume as we strolled about lookin' at the booths and stuff for sale at the after-parade bazaar in Lithia Park.
The image on the right shows all the big heads (Zapp Man, Oracle Man, and Verdita) and the lovely misses, Janel and her friend Laura (who is the wunderkind creator of the big heads).
As you can see, even at the beginning of the parade there was scant in the way of restraint or political-correctness.
| | |
| --- | --- |
| | |
---
---
Fishing: a reason to drink beer while losing expensive lures with only a remote possibility of actually catching a fish which may or may not be edible and may actually result in a sharp pointy thing (AKA: a large hook) painfully lodging where it will cause the greatest possible pain. Not an excuse. OK, yes it is. Beer; it always comes back to the beer. D'OH!
Fishing for large mouth bass, September 28, 2008, from our very own 2 1/2 acre pond, over which our cottage hangs. Not precariously, like a slug on a well-buttered hot tin roof. More like
firmly
, reminiscent of the collective grip of a hefty horde of bargain shoppers latching onto 3-for-a-buck spandex tights (if they're spandex, can they actually be called "tights?") in a hair-pulling eye-gouging blue-light special frenzy. But we digress...
On that day, cousin Mark caught a whopper, estimated at 5 lbs. or better. It was touch and go there for a while for Mark; what with all the dancing around, hooting and hollering, it looked like he was gonna have a stroke! Rock caught one a bit smaller, using very light line, so it put up one heck of a fight, which is the story he's sticking with! We caught over 10 fish that day, and released them all for a later round. Since there are approximately 100 gazillion frogs in the pond, we expect the bass will grow fatter, meaner, and tastier! (Well, wouldn't you get meaner if your diet consisted solely of frogs, assorted bugs, mysterious floaty things, and the occasional expensive and indigestible lure?)
| | |
| --- | --- |
| | |
---
---
Rock goes off the deep end
Here is, perhaps, more evidence that Rock is indeed:
A full 6-pack, unfortunately lacking the plastic thingy that holds it all together
Non compos mentis (or as we say here in the Wilds of Southern Oregon "non compost mentis" which means, roughly translated "about as smart as a steaming pile of malodorous compost that is only good for making old Bruce the blind dog hurl his chow into your best slippers")
An experiment in Artificial Stupidity
An intellect rivaled only by garden tools, bait, and that icky stuff that you have to scrape off the bottom of your shoe with a disposable object
Unable pour water out of a boot even with instructions on the heel
About as sharp as a burlap sack full of moistened Jell-O
Proof that evolution CAN go in reverse
Strong like bear, smart like tractor
As useful as a wooden frying pan
Blessed with a body by god, and a mind by Mattel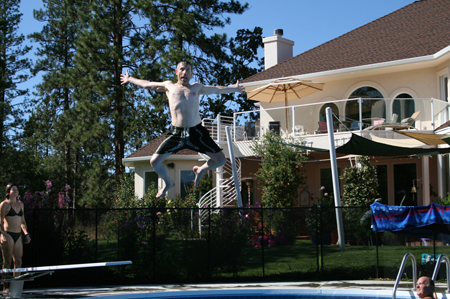 To the right and left of Rock are Charly and Marianne Warren, our dear friends who don't mind associating with the mentally challenged. As you can see from their expressions, they undoubtedly agree with all the above.

This image was taken at their home, on the day we all learned to play pickleball, and in doing so also discovered new muscles and the aches that one can experience when said muscles are abused in an all-out effort to beat the other team at any cost!
---
---
Janel and friends find an excuse to once again act up in Ashland
On Halloween day, the Samba Like It Hot band leads the Ashland parade for local kids (and adults acting like kids for the day). Janel and Christine sport their best Medieval Sorceress and Maiden garb while vigorously whacking various instruments of a musical bent and whirling like Dervishes.
And never let it be said that Rock didn't possess the where-with-all to buck up and don the freak flag his own bad self.
---
---
Rock builds a shed
Actually, Rock designed the shed and gathered the materials. And then, in the finest tradition of Tom Sawyer, he cleverly talked three of his best friends (
Jon
,
Mark
and
Jose
) into doing the actual construction while he provided absolutely unnecessary chatter such as "Hey, can I use the extremely high powered and potentially deadly pneumatic nail driver in an attempt to possibly drive in a few nails and maybe even shoot one or more of us in the knee?" Smart boys, them, not letting Rock anywhere near a device that could drive a 16-penny nail clean thru someone's head and right out the other side.
In his favor, it must be said that he provided essential libation in the form of bottomless mugs of brew and really big sandwiches consisting primarily of dark and mysterious meats and wildly stinky cheeses, creating an olfactory poem of exquisitely gagging glory.
Good thing the boys got most of the framing done before getting too deep into their cups. Equally good thing that they did not delve too deeply into the contents of those sandwiches, perhaps to discover just where Stinky the 3-legged possum and the sock-aged Norwegian weasel cheese ended up…
In all seriousness, Rock profoundly thanks the guys for all their hard work. He admits that were he to have tried it on his own that several ER visits would have resulted, not to mention a final product that resembled an Escher print.
One would think a shed would be used for tools and such, but not this one. It houses the microbrew refrigerator (Mmmmm, beer) with the space above the refer serving as a loft for the two fuzz heads, Sunny and Odie (pictured below, ready to leap boldly onto anything that even vaguely resembles food, be it living, quivering and on the verge of death, or 10 days dead and smelling of rot and ruin).
Winter is upon us, and Rock got into other projects before finishing matching the paint to the cottage (IE: he made up ingenious excuses regarding the processing and posting of wedding pictures and the need to learn how to fish without falling into the pond and looking like a silly goose). Next summer, for sure! Really. He promises!

---
---
A Good Day to Dye
For the past 5 years we have done tie dye. Sometimes just the two of us, usually with several friends. Rock makes blindingly bright shirts to wear when he plays racquetball (in order to both frighten and bedazzle his opponents) while Janel makes hers just because she really really likes bright colors!
Examples of this year's tie dyed shirts:
---
---
Rock Turned 50
With grace, dignity, a few new grey hairs, and just the tiniest whimper (heard by none save
Odie the cat
[scientific name: sleepaloticus snoozeroni], who thought Dad was offering him a treat), this September Rock sailed past a major milestone (which, according to historical documents and testimony from reliable sources, can be a moment akin to passing a kidney stone, but not for Rock, who only passed a few micro brews through his kidneys that day).
On the morning of September 15th, Rock woke up, which he considered a good thing. Despite his incredible ancient-ness, and after scraping the moss off his north side, he dressed and prepared his breakfast, all by himself; another good sign. Then he looked in the mirror and considered how he had changed from the image of himself that he keeps in his mind (that of his 20 year old self). There had been many changes, some negative, such as assorted aches & pains and the now obligatory reading glasses, but more importantly and far outweighing them were the positive ones, like all the really good friends he has and wonderful lady in his life...
...who, unbeknownst to Rock, had arranged for many of his friends to call, visit, and/or email him on that day. So throughout the day Rock spoke by phone, was visited by, and conversed via email with quite a few of his old buddies, which absolutely made his day. Later that evening, and to top off the occasion, he received a remarkable measure of doggerel (reprinted
here
) from his good friend
Doug Shaw
(who is currently freezing his exposed parts off in Buffalo NY.
Go Bills!
).
Rock says that he is not over the hill, he is standing on top of it, and anyone below him better watch out for when, like a stone, he starts to roll!
50. Hmmmm… Bring it on!
| | |
| --- | --- |
| | |
As a parting bit of wisdom, Rock reminds each of you:
Illegitimi non carborundum
---
---
Back To Top

In closing, and apropos of naught, we would like to leave you with a quote from Terry Pratchett, author of the Discworld series.

"… like tap-dancing on a landslide. If you were nimble, you could stay upright, but you couldn't steer and there were no brakes and you just knew that it was going to end in a certain amount of fuss."

That's Life!

May you live in interesting times, and may your 2009 be prosperous, peaceful, and filled with joy.

Janel and Rock